READING, PA (June 4, 2021) – An anonymous donor has significantly increased the strength and capacity of Berks Nature by establishing the Berks Nature Endowment Fund of Berks County Community Foundation to benefit the operating needs of this regional conservation organization. This gift – together with continued support from Berks Nature's annual donors and volunteers – enhances Berks Nature's ability to provide leadership on environmental and conservation initiatives and issues.
The team at Berks County Community Foundation feels honored whenever we can help a donor create a charitable fund that will be truly transformational for an organization. Learn how to start a charitable fund and other ways to give here.
An anonymous gift of $25 million to Berks County Community Foundation established the Berks Nature Endowment Fund. This fund will annually disburse money to Berks Nature to support the organization's new strategies and vision to enhance its environmental and conservation education programs; increase and diversify its team; and expand its land protection, watershed restoration, and recreation activities.
An additional gift of $3.5 million from this anonymous donor will fund a significant addition to The Nature Place, which serves as Berks Nature's headquarters, education center, and preschool in Reading's Angelica Creek Park.
The addition will include a new second-floor rooftop deck and classroom that will together accommodate groups of around 300 visitors or students on field trips for programs and events.
Click here to read the complete remarks of Kim Murphy, president of Berks Nature, upon the establishment of the Berks Nature Endowment Fund of Berks County Community Foundation.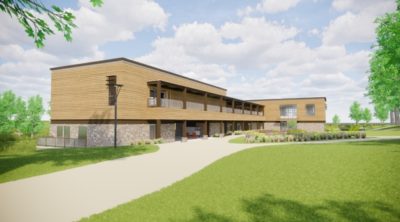 You can read an article about the announcement of these gifts by clicking the image below.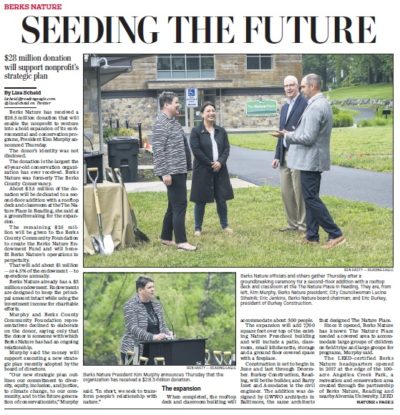 ###
Berks County Community Foundation is a nonprofit corporation that serves as a civic leader for our region by developing, managing and distributing charitable funds aimed at improving the quality of life in Berks County. More information is available at www.bccf.org.
NEWS RELEASE