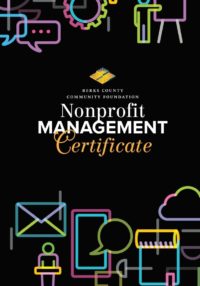 READING, PA (July 12, 2022) — Berks County Community Foundation's Nonprofit Management Certificate is back and better than ever.
This fall, join the Community Foundation and instructors from The Nonprofit Center at LaSalle University for a ten-month professional development opportunity designed exclusively for Berks County's nonprofit executive directors and high-potential staff members.
Apply by August 9, 2022 to become part of the 2022-2023 cohort, which is limited to twenty students.
Thank you for your interest in this opportunity. The application period is now closed. This program runs every other year.
WHAT'S INCLUDED?
Three group lunches at the Community Foundation
Six daylong in-person nonprofit management classes led by faculty members from The Nonprofit Center at LaSalle, all held at the Community Foundation's office in Reading, breakfast and lunch provided
Three nonprofit management webinars led by faculty members from The Nonprofit Center at LaSalle, joined from your home or office
WHY IS THE COMMUNITY FOUNDATION DOING THIS?
Berks County Community Foundation's Nonprofit Management Certificate program was designed to help local nonprofit leaders improve or renew their management and leadership skills close to home.
HOW MUCH DOES IT COST?
The Community Foundation's board of directors approved a grant that covers the majority of the cost of the program. However, each organization is asked to contribute $500 for each individual who is selected to join the cohort.
HOW OFTEN WILL THE PROGRAM RUN?
The program is offered every two years.
WHO IS ELIGIBLE TO PARTICIPATE?
This professional development opportunity is designed exclusively for Berks County's nonprofit executive directors and high-potential staff members. The cohort is capped at 20 participants. Some of the classes are meant to be attended by a board member, too. There is no additional cost for the board member to accompany the executive director or staff member to those classes.
WILL I REALLY GET A CERTIFICATE?
Yes. You will receive a certificate of completion from the Community Foundation when you finish the program in May. Note that Berks County Community Foundation is not an accredited educational institution, but rather a nonprofit that seeks to bring professional development opportunities to the community for local leaders.
WHAT'S THE SCHEDULE?
Click here for the 2022-2023 schedule. Important: Students must attend all sessions to receive the certificate.
WHERE DO I SIGN UP?
Click here to download the application form.
WHAT IF I HAVE QUESTIONS?
Call Kim Sheffer, our lifelong learning program officer, at 610.685.2223, or email kims@bccf.org.
_______________________________
THE CURRICULUM
BEST PRACTICES IN BOARD GOVERNANCE (FULL DAY, BRING A BOARD MEMBER CLASS)
Nonprofit boards have a clear and essential job to do that, when done, allows a nonprofit to meet its full potential. Sadly, though, too many individual board members, and therefore, collective boards, don't understand fully what this job entails. It requires more than good intentions and meeting attendance. It requires understanding the objective and true roles and responsibilities of the job of board member and a willingness to do them.
This class lays out the full responsibilities of board membership, in both the context of being part of a larger whole, as well as an individual. Participants will develop a deeper understanding of key elements of board responsibility, such as the law's performance expectations of nonprofit board members, strategic planning, income development, financial management, and the care and feeding of the board. In addition, this class will show how to maximize the all-important partnership of board and executive director. Attendees will leave knowing how to marry their good intentions with best practices, along with helpful tools to put it all into action.
CREATING SUCCESSFUL INDIVIDUAL AND MAJOR DONOR CAMPAIGNS (FULL DAY)
No nonprofit can afford to miss the opportunities that individual giving offers. If this were an infographic, you would be looking at a picture showing that year after year – even in the leanest of times – giving by individuals is always the largest source of charitable giving. In recent history, that percentage has never fallen from around 70% and has been as high as 82%. As significant as these numbers are, an individual giving program is about more than money. It's also about broadening your circle of supporters – those people who really care about your mission and how you achieve it. That's why individual and major donor campaigns are a perpetual cornerstone of fundraising, though the campaigns themselves must continually be updated and refreshed.
Need to know where to start an individual giving campaign? Need to refresh and renew or strengthen your current efforts? Need help with an annual appeal, a personal solicitation with a major donor, or anything in between? This class will help you develop the tools and techniques needed to create a comprehensive, coordinated fundraising program for individuals, including understanding the individual's relationship to your organization, identifying strategies for each approach, how to be donor-focused while meeting your organization's financial needs, and coordinating cultivation, solicitation, and stewardship activities that lead to successful campaigns.
Role-play will solidify your confidence in being able to solicit donors as an essential part of your nonprofit's fundraising mix.
KEYS TO SUCCESSFUL STRATEGIC PLANNING (FULL DAY, BRING A BOARD MEMBER CLASS)
For some, strategic planning feels like a chore that has to be completed. But truly effective leaders know that having a solid strategic plan is the key to motivating your board, staff, volunteers, and supporters to embrace the organization's direction and work together to move your mission forward. This class will help you understand how to make strategic planning an ongoing, integrated function of a nonprofit, ensuring that your top priorities are driving your daily decisions and operations.
This class covers traditional strategic planning techniques and touches on related models like adaptive planning, scenario planning, and strategic frameworks to give you a comprehensive overview of how to build a planning process that will work for your organization. It will provide solid information on the steps involved, from gathering stakeholder data to creating a shared vision, from framing strategic goals, objectives, and action plans to the budget. We'll also evaluate different strategic planning tools that will help your organization gain clarity on its purpose, the people it serves, its programs, and its priorities. The course will also offer different methods for involving stakeholders and the community during the process, and tips for ensuring that your plan is actively implemented instead of winding up dusty in a drawer. Finally, we'll discuss techniques for ensuring that your plan can stand up to unexpected changes both inside and outside your organization, making it your most adaptable tool for ensuring long-term success.
BLUEPRINTS FOR COMMUNICATIONS PLANNING AND MEDIA RELATIONS IN A DIGITAL WORLD (FULL DAY)
Does your organization suffer from the lack of a strategic, intentional approach to communication that clearly defines your messages, your audience, and the tools you will use to achieve your objectives? Do you have a plan that builds relationships and maximizes marketing efforts? Participants in this class will learn how to create a comprehensive communication plan, from assessing communication or marketing needs to designing communication strategies and tactics. A good communication plan helps build relationships with key publics, including volunteers, donors, and the media, as well as reducing potential risks, and this class will provide a thorough overview of how this is done. Recognizing that media relations is a powerful tool for nonprofits, even without financial resources, much of the class will be devoted to the essentials of media relations and how they fit into, and support, your overall marketing plan.
While the world of media has changed drastically in recent years, the fact that all media are swamped with requests for coverage remains constant and those who give the media what they want, when and how they want it, are the ones who will prevail. Working with the media offers tremendous value to organizations in conveying their messages, promoting events, and communicating with huge audiences, for minimal cost. Whether you're sending out traditional news releases or tweeting your announcements, there are specific skills and strategies that will give you the best chances of getting coverage from both long-established media and the so-called new media. This class embraces those time-honored skills of good writing and compelling story-telling that remain constant, while recognizing the new strategies and approaches that new media demand of those who want to be successful in disseminating their organization's message.
DEALING WITH A DIFFICULT BOARD MEMBER (WEBINAR)
Judging from the number of times we're asked about a disruptive or otherwise problematic board member, most nonprofits have faced this obstacle. Among the frequently reported offenses are board members who promote their own agendas, who micromanage board and staff, and who fail to fulfill commitments.
Regardless of the particular behavior, one disruptive board member often becomes a serious obstacle to board productivity, effectiveness, and harmony. There are both immediate and long-term actions that can be taken to preempt these obstructions and this webinar will present proven strategies. It will also offer actions that can curtail potential problematic behavior so as to prevent erosion of morale and productivity of board and impacted staff.
This webinar is structured to allow sufficient time for participants to ask questions about their particular challenges so that all participants can learn from each other about how to address these common issues. The session can help you move toward creating a more positive environment for your organization to forestall an exodus of valuable board members and staff seeking to escape from the chaos and frustration caused by a difficult board member.
LOVE THEM OR LOSE THEM: HOW TO KEEP THE DONORS YOU HAVE (WEBINAR)
It is well known that it is harder to get a new customer than to keep a current one; and so it is with donors: it is easier to keep a donor you already have than gain a new one. And yet, nonprofits, on average, retain less than half of their donors every year, causing them to have to work harder to bring in new ones. What if you could get the "secret sauce" that would allow you to improve your retention rates, thereby keeping more of your current donors and losing fewer? This one-hour webinar will share the elements of that sauce, that truly isn't much of a secret, but rather the basic elements of good donor cultivation, such as appreciation of the very first gift, to really effective communication, to good donor stewardship, and more. Walk away with practical tips, proven successful efforts, and more.
BOARD ORIENTATION DONE RIGHT (WEBINAR, BRING A BOARD MEMBER CLASS)
Once you have found new board members, make sure you offer an effective orientation experience that doesn't assume that they know everything they need to about the mission, culture, background, and history of the organization. Your organization has an obligation to clearly spell out what's expected of each board member, and also what you are committing to the relationship.
FUNDAMENTALS OF BUDGETING (1/2 DAY CLASS)
The accuracy of your organization or program's budget is one of the key factors in an organization's financial stability, growth, and ability to fulfill mission. Your budget is your financial plan, and the outline of how your mission and objectives will be carried out, guiding your organization's operations and key decision-making. This essential class will demonstrate the components and qualities of an effective budget, the budgeting process, budgeting best practices, and projecting critical cash flow.
Starting with a brief overview of financial statements, you will learn how to read the story they tell and review basic financial terms and different types of financial systems. After covering core concepts, the class will address a systematic approach to constructing a budget for a program or organization.
In addition to learning how to create a budget, this class will include strategies for monitoring actual income and expenses and comparing them to the budget so that you're able to make important management decisions in real time, and be able to project, based on reliable data. You'll learn about how cash flow statements can be used to monitor and project potential cash shortfalls so you are able to adjust and plan accordingly. We will also cover methods of allocating shared costs and explain how to incorporate that into your budget. With a deeper understanding of all the components of your budget, including administrative and overhead expenses, you'll be in a better position to make the case for being worthy of support from potential and current donors and other stakeholders.
THE POWER OF FINANCIAL FORECASTING FOR SUSTAINABILITY (1/2 DAY CLASS)
A strong financial management process is essential to a nonprofit's well-being. In times of concern and uncertainty about the economy and the prospects for funding, the ability to perform accurate and timely financial forecasting becomes indispensable. Day to day challenges, such as gift restrictions, adherence to mission, fixed and variable expenses, call for the skill to accurately forecast cash flow, while being adaptable to changing conditions. The result is a stronger and more resilient organization.
This class will explore the basic inputs required to develop and evaluate financial projections for your organization. Understanding how and when resources are available to your organization will not only enable you to guide policy and programmatic decisions, but also assist you in strategically planning your organization's growth and sustainability.
FUNDAMENTALS OF HUMAN RESOURCES (FULL DAY)
Too few nonprofits have a dedicated human resource professional on staff. Yet, the minute you have a staff member, or are even thinking of hiring your first staff member, it is imperative that someone in the organization understands the essential human resource responsibilities, regulations, and laws.
Because workplace laws guide and control much of what we must do with employees, this class covers the major workplace laws and the legal principles that govern the employment relationship. It will explore the importance of good policies and procedures in creating an effective working environment and provide an introduction to two of the most common and challenging HR responsibilities: addressing performance problems and effective guidelines for hiring the right people.