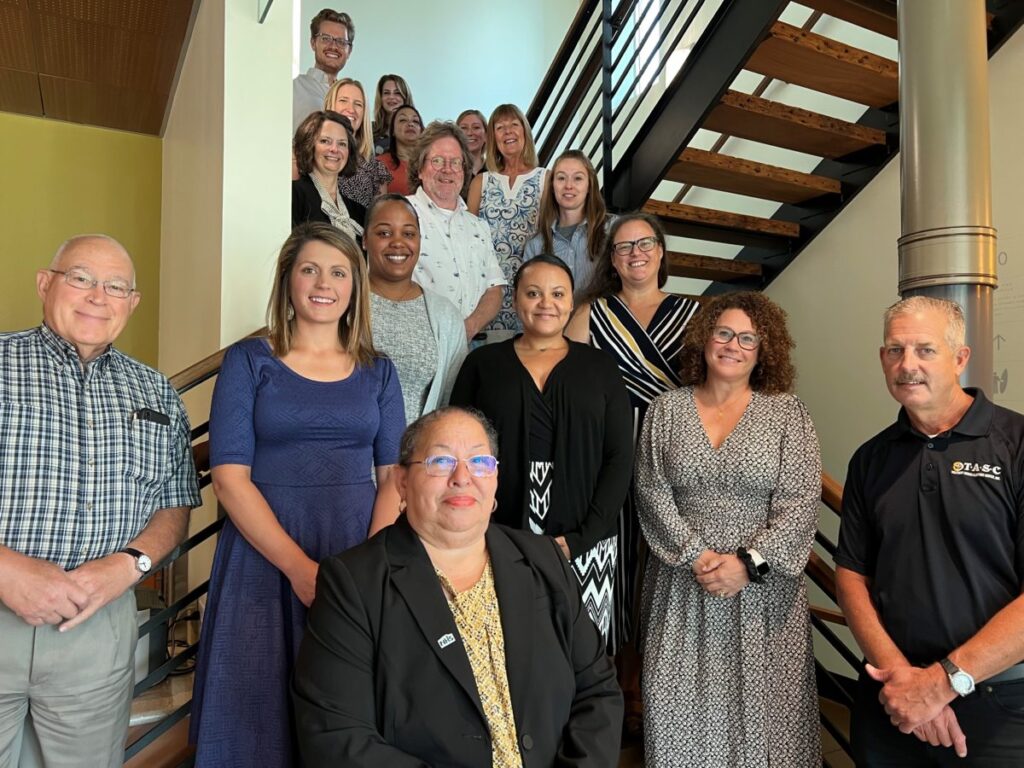 READING, PA (September 2, 2022) – The 20 members of the 2022-23 cohort for Berks County Community Foundation's Nonprofit Management Certificate program have been selected. The executive directors and high-potential staff members begin the professional development program at the community foundation's headquarters in Reading this week.
"The certificate program helps local nonprofit leaders improve or renew their management and leadership skills close to home," said Kim Sheffer, lifelong learning program officer at the Community Foundation. "It combines expert instruction from faculty from The Nonprofit Center at LaSalle University with peer learning so cohort members get to know and learn from each other."
The 2022-2023 class members:
Ellen Albright, Director, Strategic Partnerships, Science Research Institute at Albright College
Sam Barge, Executive and Artistic Director, Berks Youth Chorus
Christie Botterbusch, Executive Director, New Journey Community Outreach
English Bradley, Administrative Manager, BCTV
Alyssa Bushkie, Director of Operations, YMCA of Reading and Berks County
Gregory Colahan, Executive Director, Western Berks Free Medical Clinic
Lucy Cortez, Chief Operating Officer, Neighborhood Housing Services of Greater Berks
Lizette Epps, Director of Financial Services, O'Pake Institute
Michael Fitzgerald, President, Lauren's Foundation
Krystl Gauld, Executive Director, FaithCare
Sandy Green, Community Liaison, Kutztown Community Partnership
Amanda Hornberger, Chief Operating Officer, Jewish Federation of Reading/Berks
Beverly Houck, Artistic Director, Yocum Institute for Arts Education
Ellen Martignetti, Main Street Manager, Building a Better Boyertown
Radarra McLendon, Founder/Executive Director, The Village of Reading
Daniel Milloy, Executive Director, Treatment Access and Services Center (TASC)
Pamela Mills, Executive Director, Clare of Assisi House
Alexis Pagoulatos, Chief Executive Officer, Animal Rescue League
Jim Reece, Executive Director, Friend, Inc. Community Services
Katie Rex, VP of Social Services, Berks Encore
The program
The program includes group lunches, nonprofit management webinars, and daylong in-person nonprofit management classes led by faculty members from The Nonprofit Center at LaSalle University.
The Community Foundation covers the majority of the cost of the program, however, each nonprofit contributes $500 for each participant. The program will next be offered in 2024, Sheffer said.
This professional development opportunity was designed exclusively for Berks County's nonprofit executive directors and high-potential staff members. Note that Berks County Community Foundation is not an accredited educational institution, but rather a nonprofit that seeks to bring professional development opportunities to the community for local leaders.
Check out this Community Foundation spotlight video, where Kim discusses the program:
###
Berks County Community Foundation is a nonprofit corporation that serves as a civic leader for our region by developing, managing and distributing charitable funds aimed at improving the quality of life in Berks County.