On November 8, Berks County Community Foundation held its Annual Meeting at the DoubleTree by Hilton hotel in Reading. More than 100 civic leaders attended the event, which included brief presentations by the Community Foundation's program officers and an overview of the year by Kevin K. Murphy, foundation president.
"This year marked the culmination of our plan to increase our impact in Berks County by expanding the number of program officers working on specific causes," Murphy said. "Our annual event gave us the opportunity to introduce these new faces to the community."
The program officers oversee distributions from more than 346 charitable funds that were created by Berks County residents to support causes in the community that were important to them. In fiscal year 2023, those grants and scholarships totaled more than $6.2 million. That brings the total amount of grants and scholarships distributed since the Community Foundation's founding in 1994 to over $101 million.
In addition to Murphy, who provided a recap of the West Reading Disaster Relief Fund, attendees heard from:
Vice President for Programs and Initiatives Monica Reyes about an effort underway with the Berks County Medical Society to share the results of a study about public health released by the Berks County Commissioners this year;
Health and Human Services Program Officer Cindy Milian about the work she oversees to support animal welfare and to assist families who have children with special needs;
Environment and Energy Program Officer Emily Smedley about grants that are increasing energy efficiency for local organizations and grants that are improving soil health by monitoring the flight patterns of birds of prey;
Lifelong Learning Program Officer Kim Sheffer about teacher mini-grants, which support innovative classroom projects across Berks County. 
Details about each of these initiatives are available in the Community Foundation's 2023 Annual Report.
In addition to learning about the work the Community Foundation is undertaking, attendees were invited to pick up a brush and add their touch to a Berks County mural, and to listen to a trio of local student musicians.
If you'd like to join the Community Foundation at future annual meetings, please send your name and email address to info@bccf.org and ask to be added to the invitation list. If you'd like to learn more about the Community Foundation, including how to start a charitable fund of your own, visit www.bccf.org.
Six-year-old Timothy begged his mother to let him take skating lessons after seeing one of the Reading Royals ice hockey games. Observing the players skate so quickly excited him. Timothy's mother requested help paying for the skating lessons from the Royals Youth Hockey Fund of Berks County Community Foundation. Timothy started participating in the Royal's Learn to Skate program not long after.
The Royals Youth Hockey Fund of Berks County Community Foundation was started in 2023 by the Reading Royals Hockey Club to provide financial support to youth who want to participate in hockey lessons, camps, or leagues.
"Hockey is a special kind of sport in which success depends on every single player pulling in the same direction and supporting one another," says Dakota Procyk, Vice President of Operations at the Reading Royals Hockey Club. "This fund is a great opportunity to invest in the Berks County community and offers a chance for our local youth to get involved with hockey."
Young people's development and well-being are greatly impacted by youth sports. Their physical, emotional, social, and cognitive development is aided by them, and they provide a number of positive aspects, such as health and wellness, confidence, teamwork, and skill development.
Recipients of the fund explained how the fund made a difference and gave them a spark of hope.
"Receiving this grant has shown me we can still help each other. Cutting ice hockey out of our budget would have left a void in my son's winter."
"This fund helped allow my son to continue to play the game he loves so much while allowing me a little breathing room with inflation."
Since the fund opened in July 2023, the Community Foundation has granted $12,535 to 18 children. The grants assisted with registration fees for several of the Royals' youth programs, including Learn to Skate, Learn to Play, Youth League, and Selects Team programs.
Funding can cover registration fees and equipment. Applicants can request a Slapshot Starter Kit, which includes hockey skates, pads, and a stick. Applications are open year-round.
To learn more, click: Learn More
To give to the Royals Youth Hockey Fund, visit: bccf.org/fund 
The Community Foundation manages several charitable funds that benefit cultural groups and organizations. In early 2023, the Kutztown Pipe Band, which is made up of students, faculty, and staff from Kutztown University, local students, and community members, requested a grant from the Juniper Fund to buy materials for its Learn About Bagpipes program. The band created this program to promote excitement and enthusiasm for Scottish music and culture. 
The band first introduced the program at both Conrad Weiser East Elementary and Conrad Weiser West Elementary. Band members gave demonstrations during assemblies in which students heard songs played on various forms of bagpipes. Laura Sherrod, pipe major of the Kutztown Pipe Band, and Diana Cook, member of the Kutztown Pipe Band and an elementary music teacher, gave these demonstrations. If students had questions, they could get answers from the pipers directly during a special panel called "Ask the Piper." 
Kutztown Pipe Band hopes to expand its educational opportunities to include more adult programming. The first adult event took place at the Kutztown Public Library. Libraries pay a discounted fee to host the Kutztown Pipe Band for educational sessions, while demonstrations are free to schools thanks to the grant funding and the generosity of the members of the Kutztown Pipe Band who volunteer their time to educate students on Scottish history.
The Kutztown Pipe Band began with five piping students in 2017 and now has more than two dozen members.
In 2022, the band started the Learn About Bagpipes program to educate audiences about the instrument and to instill in them a deeper appreciation of Scottish Heritage. The musicians tailor each demonstration to the audience, and describe the history and functionality of the instruments, and play different tunes on different bagpipes. 
The Juniper Fund of Berks County Community Foundation was established in 2010 by The Murray Clan Society of North America to support the education, promotion and preservation of the history, heritage and traditions of Scotland.
The fund provides financial support for the following purposes but is not limited to:
Individuals to improve basic skills in Scottish music, dance, art, cuisine, etc.
Activities to promote enrichment experiences in Scottish culture, traditions and history.
Activities to benefit the Scottish community and the Murray Clan.
The $300 grant from the Juniper Fund to the Kutztown Pipe Band supported the cost of these educational programs, which allowed, and will continue to allow, the Kutztown Pipe Band to offer programs free for schools.
 The presence of the Kutztown Pipe Band at local schools and community events carries a transformative power. It sparks curiosity, ignites passion, and inspires young minds to explore the world of music and culture. By funding the band, the Juniper Fund is growing young talent, and offering musicians a chance to engage with a unique form of art. 
One of the ways we help to improve the quality of life for Berks County residents is by funding programs that help support education activities and the general health of the community which can include youth sports.
There are so many benefits to youth sports. Through sports, children learn a variety of skills that they can apply to life, such as leadership, teamwork, and discipline. Additionally, children are given the opportunity to practice a healthy activity while making friends at the same time.
Reading Youth Legion Baseball recognized the need for affordable sports in the Reading Area and created a summer baseball team for youths. To help cover operational costs, the 2022 Community General Hospital Healthcare Fund granted the program $6,000. The funding covered the costs of team registration and insurance, new uniforms, baseball equipment, and umpire salaries. The team played in the Senior Berks American Legion League for a total of eight weeks. These eight weeks provided Reading Youth with a baseball experience with a competitive atmosphere comparable to standard travel baseball.   
The 2022 Community General Hospital Healthcare Fund supports a variety of causes, all of which benefit the general health of the Berks County community. To learn more about this fund, visit https://bccf.org/funds/community-general-hospital-healthcare-fund/
At the community foundation, we help people in Berks County who want to do something charitable by distributing grants, scholarships, and other forms of support from funds they create based on the community's needs. Our mission is to improve the quality of life for residents and to do that, we make a point of connecting with the community we serve.
One way we make those connections is to visit places where grants are distributed to see the impact they have on the community. We recently visited the Governor Mifflin area, which we manage several funds to support.
Our program team had an incredible day exploring the Governor Mifflin area. This visit took us to three unique and captivating locations: the Mifflin Community Library, Alvernia University, and the Allegheny Evangelical Lutheran Church. We also made some in-between stops, including John Updike's childhood home, the U.S. Army Reserve Center, a much-needed stop for snacks at Tom Sturgis Pretzels, a quick trail walk at Berks Nature, Berks Military History Museum, and a visit with some farm animals at Swartz's Roadside Stand.
Here's a recap of this enriching experience:
Our first stop was the Mifflin Community Library, a true gem nestled in the heart of Governor Mifflin. As we entered this cozy library, we were immediately struck by the inviting atmosphere. We met Natasha Donaldson, Director of the library, and Colleen Stamm, Board Treasurer who were both friendly and helpful. The shelves were lined with a variety of books. The library's serene reading nooks and vibrant children's area made it a welcoming space for all ages. We discussed some of the programs offered at the library for the community. We shared information with Donaldson about the Russell L. Hiller Charitable Trust Fund.
"The funding helps us add more variety to our collection," Donaldson said.
Judge Russell Hiller was a resident of Shillington, and in his will, he established a fund that distributes grants to help the Borough of Shillington, Shillington Borough Library, and Albright College, and provides scholarships to Governor Mifflin High School seniors. Additionally, the fund supports an annual competitive grant process for programs benefiting the residents of the Governor Mifflin School District.   
Next on our itinerary was a meeting with Glynis Fitzgerald, President of Alvernia University. The campus was not only stunning but also vibrant, with students hustling to and from classes and enjoying the lovely surroundings. We explored the university's modern facilities, from well-equipped classrooms to the state-of-the-art library. Many students who receive scholarships from the Community Foundation attend local colleges and universities like Alvernia.
We enjoyed lunch from Screpesi's Sandwich Shop, where they know a thing or two about sandwiches. They have been serving Berks County since 1949. We took the sandwiches to Shillington Park and enjoyed the fall colors with a view of the Pagoda.
Our final stop took us to the Allegheny Evangelical Lutheran Church where we met with Kristen Kelly, Director for Children and Family Ministries. The church has beautiful architecture and serene surroundings that provide a sense of tranquility. Our tour gave us valuable insights into the rich history of the church and its role in the local community, which includes offering its space to community organizations and programming for residents.  
The Home Health Care Foundation Fund supported two new automated external defibrillators (AEDs) for the church.
"Having the AED equipment provides us with peace of mind knowing it's there in case there is an emergency," Kelly said.
Throughout the day, we couldn't help but appreciate the warm hospitality and genuine friendliness of the Governor Mifflin community. This tour was a perfect blend of intellectual exploration, natural beauty, and cultural heritage. Look for us on our next stop as we explore more of Berks County's interesting organizations and history.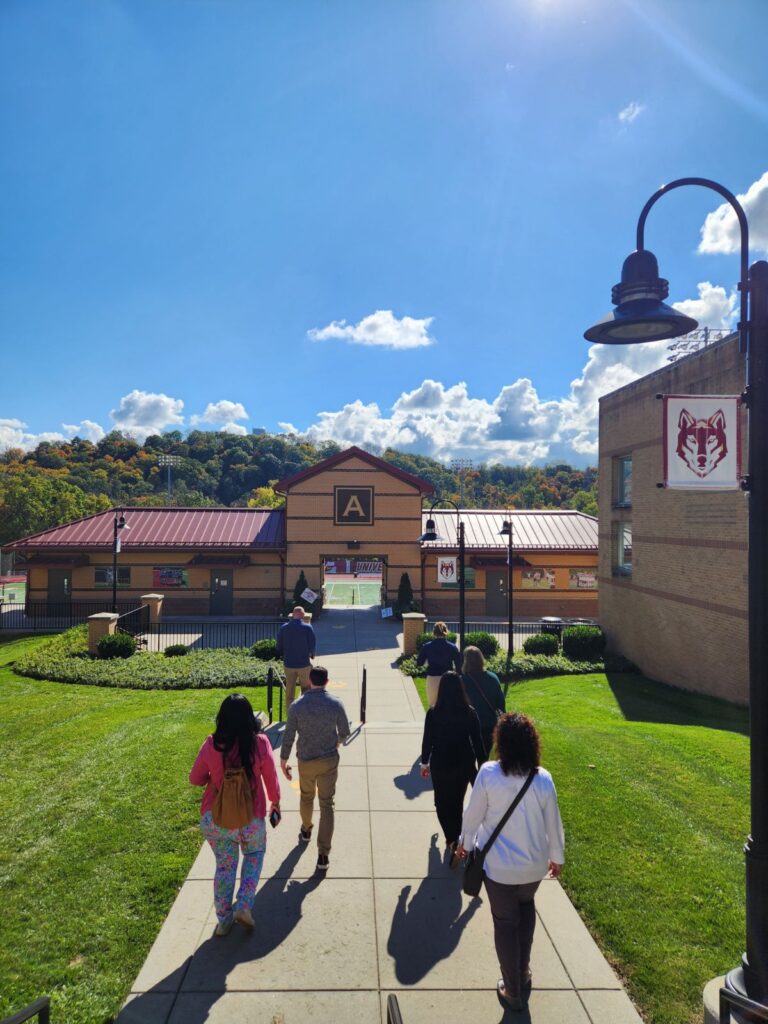 K-9 units have been proven to strengthen local police forces by aiding in crime-fighting efforts. Thanks to the generosity of local residents, Berks County Community Foundation manages several charitable funds that benefit police K-9 teams in the area.
Funding has supported several projects related to the training and maintenance of K-9 teams. The Cheltenham Township Police Department recently requested grants from these funds to support the costs of training for handlers in areas like decision-making, de-escalation, and threat assessment. A police team's job looks different every day, so making sure the handler is well-equipped to handle various outcomes and scenarios is paramount to the success of both the K-9 team and the police team.
Grants from these funds can also support the costs of certifying or recertifying police K-9s. The City of Reading Fire Department has one K-9 named Gracie who helps the fire department and police with arson cases. Gracie can tell the difference between the scents of various flammable liquids. She can alert officers where samples should be taken from, which provides investigators with more evidence of how a fire was started. The evidence that Gracie helps collect is vital in convictions of arson cases. The City of Reading Fire Department requested funding to pay for Gracie's recertification so that she can continue to work in Berks County and surrounding counties.
Grants from these funds can also support the costs of maintenance and upkeep of K-9 teams, which can be costly for police departments. Berks County Community Foundation has provided funding for a few different K-9 upkeep projects. Both the City of Reading Police K9 Unit and the Plymouth Township Police Department requested funding to finish renovations and upkeep for their K-9 buildings. Making sure the dogs have a safe and comfortable space to rest after a workday is imperative for the dogs' well-being. Additionally, the buildings can serve as storage areas for K-9 supplies.
The K9 Unit funds at Berks County Community Foundation have also provided grants to cover the cost of new training equipment, veterinary bills, pet insurance, and other necessary K-9 equipment.
To learn more about the various K-9-unit funds that we manage, visit https://bccf.org/fund-directory/
Earlier this year, more than 45 Berks County leaders met with the Community Foundation to talk about community resiliency and environmental health. The leaders hailed from government agencies, nonprofit organizations, and local businesses whose work focuses on critical issues such as stormwater management, land conservation and preservation, health, transportation infrastructure, and the built environment.
We were joined by experts from the Institute for Conservation Leadership (ICL), who posed a series of questions aimed at determining ways the Community Foundation could deploy its resources to address environmental issues in Berks County.
Based on the answers to those questions, ICL made three recommendations:
Support collaboration and create a series of regular interactions to ensure information and ideas are being exchanged.


Create an innovation fund to put money behind collaborative and pilot projects that improve community resiliency and environmental health in Berks County.


Pay for additional research when needed to ensure a full understanding of the often-complex geographic and human interconnectivity of local environmental issues.
We look forward to continuing this work and providing space for these important conversations to happen. For now, click here to learn more about this project and to read the full set of recommendations.
(August 21, 2023) – JOHNSTOWN, PA – The Metropolitan Edison/Pennsylvania Electric Company Sustainable Energy Fund (Met-Ed/Penelec Sustainable Energy Fund) announced today that a new funding opportunity is available to nonprofit and for-profit organizations. Effective immediately, the fund will offer program-related investments (PRIs) to organizations within the Met-Ed and Penelec territories in Pennsylvania.
The Met-Ed/Penelec Sustainable Energy Fund, developed to provide funding for sustainable energy-efficiency and clean energy technology development, will offer PRIs typically ranging from $50,000 to $100,000 to projects that fulfill the mission of the fund. Program-related investments are low-interest loans, which provide capital that must be paid back. Loans will be offered at 4-6 percent interest with a maximum 10-year payback period. The final interest rate, loan term, and loan amount will be determined by the fund's advisory committee in partnership with professional loan advisors at JARI Growth Fund, a certified Community Development Financial Institution (CDFI).
"The committee wanted to create a bigger impact than ever before with this funding," says Davitt Woodwell, chair of the advisory committee for the Met-Ed/Penelec Sustainable Energy Fund and president of the Pennsylvania Environmental Council. "By offering larger pools of funding, we can drive sustainable energy solutions that will leave a positive impact on our communities. And by offering loans, we can use the money that is paid back for more projects in the future. We are excited to see the outcomes of the projects."
With increased funding currently available for these types of projects from various sources, such as the federal and state government, this PRI opportunity will continue to move the needle on developing sustainable and renewable energy programs and clean-air technologies as the Met-Ed/Penelec Sustainable Energy Fund has since its inception.
Learn about the application process and criteria at https://bccf.org/met-ed-penelec-sustainable-energy-fund-loan-opportunity/.
The Met-Ed/Penelec Sustainable Energy Fund is administered by Berks County Community Foundation and the Community Foundation for the Alleghenies respectively. For further information, contact one of the following staff members whose location is closer to your organization and/or project:
Angie Berzonski, Community Foundation for the Alleghenies, Johnstown, Pa.: aberzonski@cfalleghenies.org, 814.315.2982

Emily Smedley, Berks County Community Foundation, Reading, Pa.: emilys@bccf.org, 610.685.2223
###
The Metropolitan Edison Company Sustainable Energy Fund of Berks County Community Foundation and the Pennsylvania Electric Company Sustainable Energy Fund of the Community Foundation for the Alleghenies distribute funding for a variety of projects within the territories originally served by the two electric companies. The two funds share an advisory committee and are known in the singular as the Met-Ed/Penelec Sustainable Energy Fund. More information available here: https://bccf.org/funds/sustainable-energy-fund/.
Community Foundation for the Alleghenies (CFA) is a public, nonprofit foundation that manages funds to strengthen communities in Bedford, Cambria, Indiana, and Somerset counties. CFA empowers individuals to become philanthropists, donors to make meaningful change, and caring citizens to design a legacy. For more information, visit www.cfalleghenies,org.
Berks County Community Foundation is a nonprofit corporation serving as a civic leader for the region by developing, managing, and distributing charitable funds to improve the quality of life in Berks County, PA. More information is available at www.bccf.org.
Formed in 2016, the JARI Growth Fund (JGF) is a certified CDFI (Community Development Financial Institution) and equal opportunity lender which supports low-to-moderate income individuals, minorities, woman-owned entities, and people with disabilities throughout the Southern Alleghenies region. JGF provides capital encouraging a diverse economy, building vibrant communities, enhancing the quality of life for residents of the region, improving housing, and addresses the needs of unserved, underserved, and minority communities throughout the region. More information is available at https://www.jari.com/.
Contact: Erica Caceres, Communication Manager, Berks County Community Foundation,ericac@bccf.org, 610-685-2223
Reading, PA – Youth Volunteer Corps of Reading (YVCR) has recognized Wilson High School junior, Samantha Martinez, with its annual Youth of the Year Award. As the youth program arm of VOiCEup Berks, YVCR engages over 500 Berks County students annually in projects that serve the community. This award is given to one student who has shown exemplary leadership skills, has advanced the mission of YVCR through volunteerism and the development of creative YVCR projects, and has the highest level of volunteer commitment recorded in the program year.
This program year, Samantha served over 230 hours on community projects ranging from volunteering at homeless shelters, to helping develop and run summer story time and playground programs, to facilitating conversations about equality and justice for groups of students in her school and adults in the community. Since her involvement with YVCR began five years ago, Samantha has amassed over 500 hours of service with the program, making Samantha the first recipient of the YVCR 500-Hour Award as well.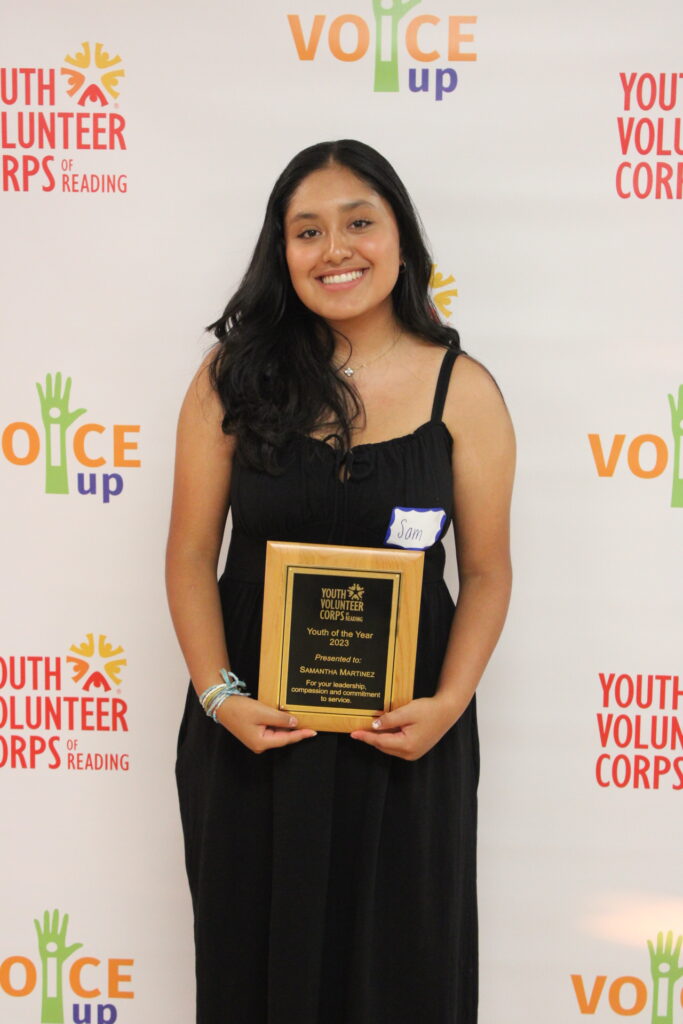 Samantha began her journey with YVCR as a sixth grader at Reading Southern Middle School. In middle school she worked with a group of her peers, developing projects to help underserved women and girls gain access to menstrual products. As a high school student at Wilson, Samantha has gone on to be a leader within the Stand Together Against Racism (S.T.A.R.) youth-driven initiative. She also serves as a YVCR Youth Mental Health Ambassador and served her first term on the Youth Advisory Board of Berks County Community Foundation and Youth Volunteer Corps.
"She is the epitome of grace, kindness and strength. Her leadership skills and ability to make everyone around her feel at ease makes her light impossible to ignore. She is a true leader and community changemaker." says Lindsay Sites, YVCR Program Director.
"Having the opportunity to be a part of YVCR for the past five years has definitely changed my life for the better" says Samantha. "This program has not only taught me how to speak up for what's right and be a better person, but it has also given me the chance to make lifelong friendships. I am beyond grateful to have accepted this award and hope to continue being a change maker in my community in the years to come."
Samantha received the Youth of the Year recognition at the annual YVCR Awards Ceremony on August 1. Other students honored at the event included five of Samamtha's fellow Wilson classmates – Jaida Garber, Kemi Ojikutu, Sindura Sridhar, Mia Worley and Athena Worley – who were each honored with the 100-in-One Award for completing over 100 hours of service to the community through YVCR in one program year. Cadence Perez from Muhlenberg High School received the Heart of YVC Award and the YVCR club at Northeast Middle School in Reading received the YVCR Project of the Year Award for its project addressing domestic violence and supporting Safe Berks.
Youth Volunteer Corps of Reading focuses on developing leadership skills and promoting a lifetime commitment to service among youth by offering student-driven volunteer projects for youth ages 11 to 18 on Saturdays, after school, during school, virtually, and during the summer. YVC of Reading, hosted by VOiCEup, is one of over 30 affiliates of Youth Volunteer Corps, headquartered in Kansas City. YVC of Reading has engaged hundreds of young people from diverse backgrounds in over 35,000 hours of service to help this community over the past 7 years. Find more information at www.voiceupberks.org/yvc. VOiCEup Berks is a fund of Berks County Community Foundation.
To learn more about the fund, click here
Press release originally published by VOiCEup Berks. Contact Contact: Christi Terefenko, Executive Director, christi@voiceupberls
###
Teachers across Berks County are finding new ways to keep children engaged in learning by innovating the pre-existing curriculum. Teachers at Mifflin Park Elementary School wanted to help their students who struggle with reading, which may or may not be the result of the student learning English as a second language. By modifying the curriculum with their Stories and Steps Program, teachers were able to make literature more accessible and fun for students who needed extra help.
The Stories and Steps program was created in 2021 to help students get more comfortable with reading and understanding the English language. Students participating in the program were primarily struggling readers, and or in the process of learning the English language. The program had 101 students participate in total. These children walked together while listening to audiobooks of children's literature.
According to Corinne Brumbach, librarian at Mifflin Park Elementary, and Diane Richards, chief financial officer, students were incredibly responsive to the program. It was reported that 100 percent of the participants wanted to take part in another audiobook club. When asked about the program's impact on the students, Brumbach and Richards shared quotes from the students.
Has the audiobook helped you? How?
"Yes, I learned new things and I can hear it just like the author wanted it to be heard."
Do you enjoy listening to audiobooks?
"Yes, I could hear how to say words."
Because of the program, students developed deeper engagement with the reading material and a stronger interest in reading. In the future, Mifflin Park Elementary hopes to offer the program for the entire school year instead of a portion of the school year.
This project was funded by a mini-grant from the Berks County Association of School Retirees Scholarship and Grant Fund. This fund was created to provide a scholarship to a Berks County senior and mini-grants for classroom projects. To learn more about this fund, visit https://bccf.org/funds/berks-county-association-of-school-retirees-scholarship-and-mini-grant-fund/