READING, PA (January 5, 2021) –Berks County Community Foundation is currently accepting applications for more than 80 scholarships through a new single online application at www.bccf.org. The deadline to complete the application is March 15.
"Many of the scholarships are for Berks County students graduating from high school, but others support non-traditional students or students already in college or trade school," said Heidi Williamson, Community Foundation Senior Vice President for Programs and Initiatives.
The majority of the scholarships were created by Berks County residents to support local students.
Since its inception in 1994, the Community Foundation has awarded more than $10 million in scholarships to local students. In 2020, 260 Berks County students received more than $600,000 from the Community Foundation to help them with the next phase of their education. Similar numbers are expected for 2021.
Potential applicants can review all of the available scholarships here: https://bccf.org/search-for-scholarships/, and learn about the new application process here: https://bccf.org/apply-for-scholarships-2021/.
For a downloadable PDF with this information, which could be posted in schools and other public buildings, click on the image below.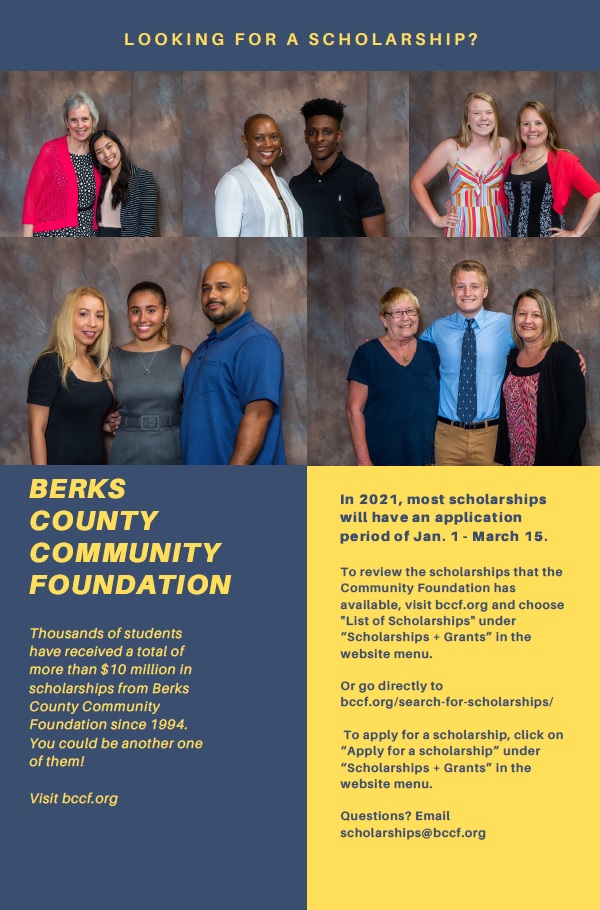 ###
Berks County Community Foundation is a nonprofit corporation that serves as a civic leader for our region by developing, managing and distributing charitable funds aimed at improving the quality of life in Berks County. More information is available at www.bccf.org.
NEWS RELEASE